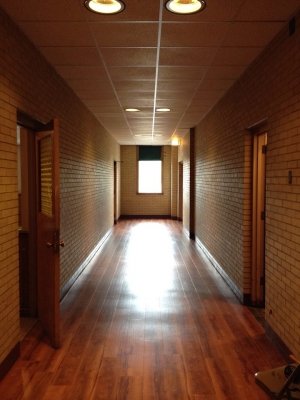 The Lord has been speaking to me quite a bit today and this evening and has been tying together a number of dreams and visions along with a dream from Douglas that he just had two nights ago. I had a few folks over to my house who are gifted to discern and hear from the Lord about things like this and ended up having another vision during our time together. I am intending to write the entire revelation up but I wanted to post one element here tonight and then write a more thorough post tomorrow about it all. In the vision tonight the Holy Spirit mentioned a previous dream about 'hardwood floors' in the church, this was in refrence to the new floors we put into the hallway today. I was told in the vision to look back at the dream that mentioned these hardwood floors and when I did I only found one that mentioned 'hardwood floors' and this was the dream:
Big Room as a Bedroom
From April 3, 2013 ~I had a dream where I was in collage and they assign me a dorm with a number of girls. Maybe four. I walk through the halls and I didn't know anyone. The scene changes and I realize that I am at a new Teen Challenge program, so I am not sure where I am but somewhere new and with no one that I know.
I walk into my new apartment. It is large and spacious and I have a suitable room. Rica Doriot is there, not in my room, but in the place where I am and so is Steve Kemps. Steve stops by my apartment to eat lunch. We choose to stay there, it seems like a school and a ministry combined, and to not go home for lunch so we can stay close.
I notice heavy drapes that hang on the windows down behind my room and I want to open them. I notice a sort of back hallway room where nice leather furniture is and huge windows so I open them and mention that they need cleaning. I begin to try to arrange times with the girls who are there to clean them. I somehow know that I am not to forget to include the new young girls even though they resist. As I go down the narrow hallway opening the drapes I notice another doorway and go in.
Here is an enormous room the size of a gym. Half of the big room has been made into a loft and looks very much like an enormously huge bedroom but no one lives in it. A man and another person were talking in the loft making plans to decorate but they seemed like they didn't live there or belong somehow. I turn around and say, "we must have a party. Don't worry I will get the people". 'I'll invite everyone,' I am thinking because I don't have any friends here yet and am not sure Rica nor Steve will want to associate with me at this place.
I begin to make plans by throwing out dates to clean before dates for the party but no one seems vey excited. They are acting like they don't want to help clean but I am thinking that I don't care if I have to do it all myself because this place is too great to not invite everyone for a party. But to actually have a party it has to be perfect; clean and ready.
Then I wake up and I am shocked that I just saw the big room again but this time done as huge bedroom. In the dream I kept thinking how inappropriate such a huge space is for just a bedroom and that I would have to strip the carpet out to expose the hardwood floors and get rid of the heavy drapes and bed and so on. Then I thought of IHOp and those camps that we are not to be influenced by and how they have made "church" into a big "bedroom" where worship/intercession is the central focal point and the ministry has been designed around that gift/calling. Shortly after I was asking the Lord for and interpretation and fell back to sleep and dreamed again.
People Sleeping in the River
This time I dreamed that I was in my house that was on a body of water. Ron Hulvey (this is a man I have never met but have heard helped start CCV) called for me to come out back to hear the kids playing the piano and singing. The water was very rough and I noticed a woman sort of reaching down for a man face down in the water. I yelled to Elias take my phone, threw it onto the grass, ran, and jumped into the water. I first grabbed a boy about eight years old and squeezed water out of him. He coughed and gaged and started to breath. I handed him to the lady on the deck. I noticed about eight people floating in the water, seeming to be asleep but still alive, all around a wheel or like their heads were connected to a round structure.
I said, 'where are they all coming from" and the women sitting there on the dock said, "you should come down by my house and get some out." That struck me as weird because why didnt she know what to do and just do it herself. I grabbed another man out of the water then and did the same thing. When he gaged and coughed I noticed that he was Tom Asmuth. Then I went back for more. As I approached more bodies I woke up.
The second dream brings to mind the dream about the turned over school bus, titled Father's Love, and knowing how to help the people coming out at the same time watching others do nothing. More on all of this tomorrow but I am interested to hear your thoughts.