August 8, 2007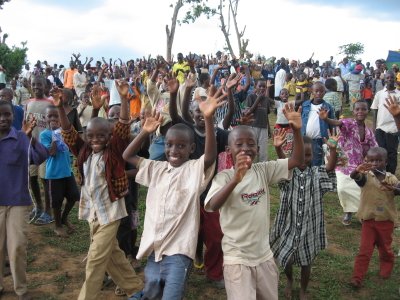 I was lying in bed this morning and this guy from Rwanda keeps popping into my thoughts. It's as if I have to try to not think about him like an addiction, for the past week or so. Weird thing is I don't even know this guy and cannot even actually remember his name. He signed up for my Face book friends just over a week ago. He is from Rwanda and got my Face book info from a Rwanda group I just joined. So as I was praying he popped up again. So I asked the Lord "why does he keep coming to mind"? And whammy! The Lord begins to give me a message for Rwanda.
"REVIVAL is coming!!! Revival has already begun to spread!!! Vengeance is mine says the Lord and I will repay evil with light. I will spread my kingdom upon these hills far greater than the revival in the past. I will pour out overflow upon this land. I have heard the cry of my people. The Devil who is your enemy has had a day but principalities of darkness lie down and are bound and my kingdom will spread across this land. One by one I will revive them. From the hills will come great shouts of Joy and they will go out with praise and be lead forth with peace and the mountains and the hills will break forth before them! Tell the people that revival is upon them once again far greater than the former days and I will have My Way. It is time to tell them in the streets, the church has heard this word and now it is time to tell my brothers in the streets. Revival is upon us! Break forth with singing! For the Lord your God rejoices over you with Great shouts of Joy!"
I asked the Lord then is there something that you can tell me to tell them that will happen in the near future so that they believe that this word is from you and take heed to it and go out into the streets, but He answered me and told me that they already believe.