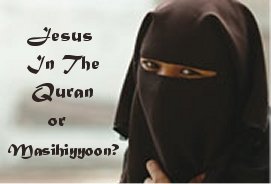 At the "Jesus in the Quran" Conference held at Christ the Rock Community Church (CTR) this past August, a series of ideas were taught to a number of young people considering the mission field; some staff at CTR; and a number of people interested in ministering to Muslims who attend a variety of churches here in the Fox Valley and surrounding area. These ideas are highly controversial at best. After much research I found that the Emergent Church and some larger Evangelical Churches have been embracing these ideas for the past few years. Locally, for the past two years, CTR has been involved with ministers teaching similar concepts to the "Jesus in the Quran" movement. Janet Lenz, Saharawi Director at CTR, has plans to have the "Jesus in the Quran" people join them on their next trip to Africa this November.
In 2007 the Lord had spoken to me about "pigeonholing" Christianity with Islam and how leaders in the Church would begin to do this by breaking down  the  line  of  demarcation between the two belief systems.  He said that He hated this. He then, this July, told me to post this prophecy publicly so I did so on my Shouts of Joy Ministries Facebook Group. It was in mid August that a long time member of CTR contacted me and informed me that CTR was in fact hosting a conference similar to the one that some members had previously attended in Minnesota. There were concerns and questions posed regarding what was taught so this member began to research the "Jesus in the Quran" / "Common Ground" information. Shortly thereafter she found the prophecy titled "Christianity and Islam" on the Facebook Group and contacted me. After attending the conference at CTR herself she gave me an audio recording of the entire event.
We have taken a number of points that were taught in this particular conference and listed them below in short form for those who do not like to read lengthy articles. We have posted the full version below this article for those who want a more in depth look. One is the summary of the unbiblical points found in the "Jesus in the Quran" conference, with audio clips from the conference at CTR so that you can hear for yourself what was actually said in context, including multiple audio quotes for each point. Included is what the CTR leaders are saying about the conference. Another is an article written by Douglas Pirkey that is a theological refutation of elements of C5 Contextualization as taught at the "Jesus in the Quran" Conference.
Unbiblical Ideas Taught at the CTR "Jesus in the Quran" Conference in August 2009:
Muslims don't need to become Christians (or even leave Islam), nor should we ask them to. They can remain Muslims and simply "discover Jesus" in Islam. We should not convert Muslims. God wants people to "remain" in their current religious context.
The Kingdom of God is not uniquely Christian (or even covenantal as in God's fulfillment of his covenant with the Jews), but equally draws from various faiths:  Christian, Muslim, etc.
Muslims who have "discovered Jesus within Islam," since they are encouraged to remain Muslim, can continue to hold to the Muslim profession of faith, the Shahada, which says, "There is no God but Allah and Mohammad is God's prophet." (This in spite of the fact that Mohammed's "revelation" of Jesus included the denial of His divinity, death, burial and resurrection.)
The Quran is a holy book which these believers should continue to look to, along with the Bible, in order to "discover this Jesus."
Mohammed may be, in fact, a true prophet of God (some think he is and some think he isn't) and it is up to each conference participant to decide. Participants at the conference were encouraged to prayerfully consider if, in fact, Mohammad was a true prophet after all. Quotes in the workbook handed out specifically state that Mohammad is in fact a prophet.
The following Sunday after hearing this heretical teaching, Pastor Bill Lenz made this comment,
"…the training was just absolutely excellent."
Listen to this comment in its entire context here:

After hearing Bill's comment about the teaching I was shocked. How could he, a man of God who believes in the orthodox tenets of the faith, hear this pigeonholing of the gospel and say that it was excellent? How can the elders of CTR defend this teaching, much less allow it to be used in their mission work? They are accountable for this and so I am assuming have heard it and have either disagreed and remained silent or have taken it in without checking it with biblical teaching and are supporting it. Either way their reactions are not biblical. Like Paul does in the second book of Timothy and in Galatians, those promoting false teaching need to be publicly spoken to, the heresy addressed, and the ones following it prayed for and gently instructed.
As this issue develops in the Fox Valley and God has His way in cleaning up the Church before He brings an outpouring of His Spirit, let us not forget that our enemy is the devil, not each other. We are seeking truth, obedience, the headship of Christ, and the repentance of our brothers; all of this to glorify the One who is worthy. We put before you what we believe to be true, biblical, and our responsibility as followers of Jesus Christ.