Hey guys!  I have received so many inquiries regarding the Santa Ana Winds prophesy sent to out this past July, these past three days that I finally went to look up what the original word was.  All I could remember was that I was told that these Santa Ana Winds were coming.  When I went to check in my email archives here is what I found:
Santa Ana
July 10, 2007
Wanted to send you this heads up and ask you to begin to really press in and pray about what God told me last night.
Here it is: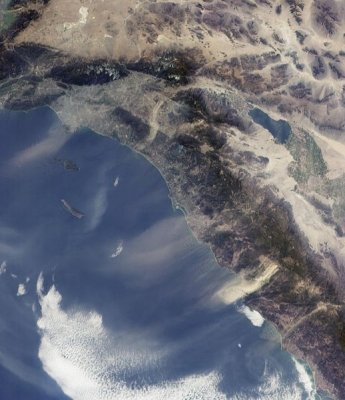 Last night, July 9 and early the 10th the Holy Spirit woke me up no less than five times and maybe more.  I was resisting and kept trying to stay asleep.  But each time I heard an audible voice say, "Santa Ana Winds!"  The third time I woke myself all the way up and repeated the words.  I was wondering what in the world Santa Ana Winds were but at least I got it into my memory so that I could check it out in the morning.  At about 4:00 He woke me again and said "Santa Ana Winds are coming.  A time is passing."  I asked what this meant and I heard nothing in response but I did feel a sort of foreboding, uneasiness and yet hope as well.  Back to sleep only to be woken up again around 6:00.  Same thing this time only with a serious sense of urgency.  "The Santa Ana Winds are coming.  A time is passing"  For some reason this time it got into my head that these "winds" would be a sign of the "time" He was speaking of is passing.
At 7:00 I heard an audible voice that was very deep and sounded like a large man say, "Joie!"  I was wide awake and it sounded like it was coming from the bathroom or office.  So I got up to see if Eric was alright.  I heard the voice call out twice.  Eric was sleeping.  The voice seemed so urgent that I actually woke Eric up to make sure that he was ok.  Then I went down stairs to see if someone had come in and was calling me.  But no one was there.  I went back to bed and explained it all to Douglas.  He suggested that I Google it and said that he knew of these winds in California.  So I did just that and found this sentence on the Wikipedia page: http://en.wikipedia.org/wiki/Santa_Ana_wind
Under the category of etymology (study of the origin of a word):
"There are also claims that the original form is Santana winds, from the Spanish vientos de Sanatanas ("winds of Satan", Sanatanas being a rarer form of Satanás), and that this in turn is a translation of a native name in some unspecified language."
So, I believe that the Lord is encouraging us that a "time is passing".  Most of us are fully aware that Body of Christ has been in a season of darkness here in the Valley since November of 2002.  On that November I was told that the church in the Valley needed to be sanctified for five years, which brings us to November 2007.  And now the Santa Ana Winds are blowing on California causing horrendous fires and a lot of attention.  Be encouraged!  This time is finally passing.  An outpouring of the Spirit of God is on the horizon.  May we all be ready with clean hands and a pure heart and a passionate desire to please Jesus, who is our Head!~AMEN!  Ephesians 1!!!